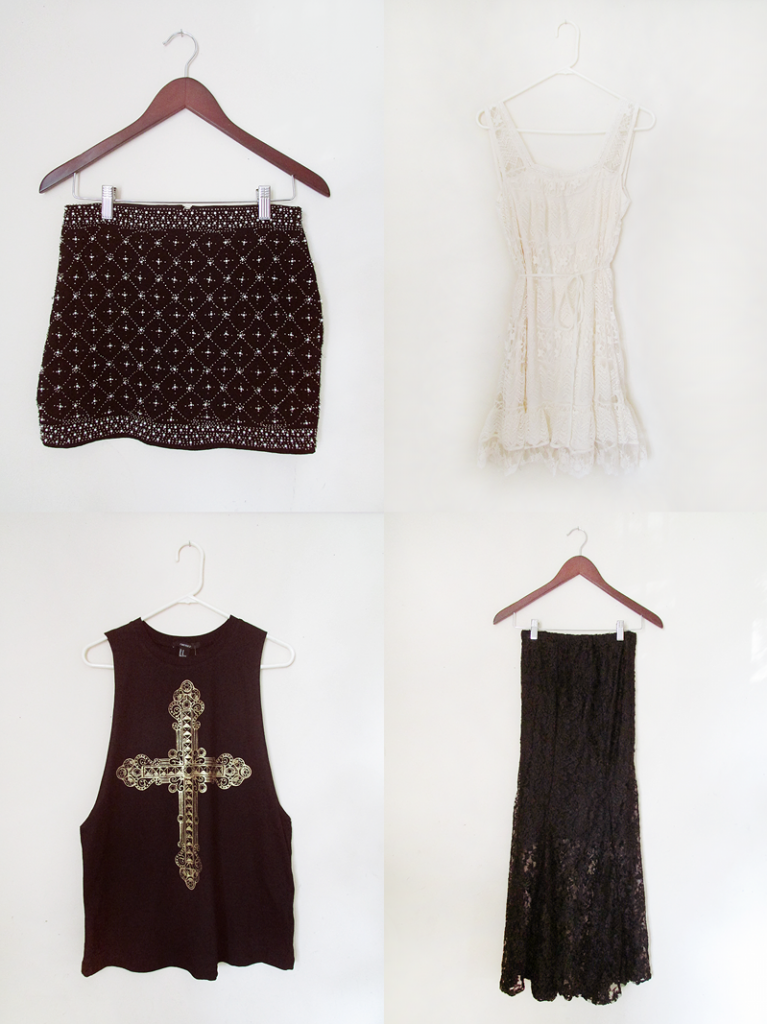 My first haul. I notice that I haven't done a haul since I started this blog and to keep it updated I decided to post up what I recently purchased. SO LETS GET IT STARTED!!
Item 1) Pearl Embellished Mini Skirt from Forever 21
, I'm not always a huge fan of mini skirt but this skirt is too elegant to not buy it. When I bought it I didn't even notice that the zipper was already broken until I got home, but no worries since I am an crafty person I used my jewelry tools to fix and zip the zipper right back up (kudos for me). Anyway, what I love about this skirt is the way the beads are design to form the diamond shape and the pearls makes the dress stand out more.
Item 2) Knitted Lace Dress from Charlotte Russe
, sorry for the bad picture. I wish I should of taken a more close up picture so you can see the details more. It's a very elegant dress and I love how it's ruffle at the bottom. When it comes to lace nothing can't go wrong. You can definitely wear a nice blouse underneath if or a long sleeve shirt.
Item 3) Gold Cross Black Top from Forever 21
, as you can tell I'm really into the color black lately. Sometimes I like to show my edgier side and I will end up buying a lot of black clothes. I'm not a huge fan of gold when it comes to clothes but the cross that is printed on this top is so gorgeous and very detailed. It's a muscle t-shirt which I like.
Item 4) Long Lace Black Skirt from Marshalls
, this skirt gives a bohemian and hippie kind of feel when I bought this skirt. I really like it because it's stretchy on the waist and it shows my curves. Plus, the rosy lace prints on this skirt is so gorgeous. (
Top L to R
) Pearl Embellished Mini Skirt from
Forever 21
- $23.99 Knitted Lace Dress from
Charlotte Russe
- $32.99 (
Bottom L to R
) Gold Cross Black Top from
Forever 21
- $13.80 Long Lace Black Skirt from
Marshalls
- $16.99